Description
Introducing the Vitirover, a revolutionary solar-powered robotic mower designed to provide a sustainable and efficient solution for maintaining and monitoring vineyards, orchards, and various landscapes. Combining advanced technology with an eco-friendly approach, Vitirover offers an intelligent alternative to traditional methods of landscape maintenance, reducing environmental impact and labor costs. With its innovative design and adaptability to various terrains, Vitirover is poised to change the future of agriculture and landscape management.
Autonomous and Solar-Powered Mowing System
GPS Navigation and Smartphone Control
Vitirover utilizes GPS signals for precise navigation, ensuring it can easily find its way through vineyards and other agricultural settings. The robot can be programmed using a simple smartphone, allowing vineyard owners and workers to set the device's course effortlessly.
Eco-friendly and Self-sufficient
Powered by solar panels, Vitirover operates as a self-sufficient machine, reducing the need for manual labor and eliminating the use of harmful chemicals. This eco-friendly approach benefits both the environment and the health of the vineyards.
High-Quality Motor System
Efficient DCX 22 L Drives
The Vitirover has four DCX 22 L drives and brushed DC motors, offering maximum power density in a small installation space. These highly efficient motors ensure optimal performance during battery operation.
GP 32 C Gearhead for Traction
Combined with a GP 32 C gearhead, the Vitirover can effectively absorb the load on the wheels and deliver the necessary torque for traction. This feature enables the robot to tackle various terrains without compromising its functionality.
Aluminum Bell Housing for Enhanced Durability
Protection for DCX 32 L Series DC Motors
To address the issue of high load damaging the ball bearings of the motors, the engineers at Maxon developed an aluminum bell housing for sustainable protection. This design choice ensures the longevity and durability of Vitirover's motor system.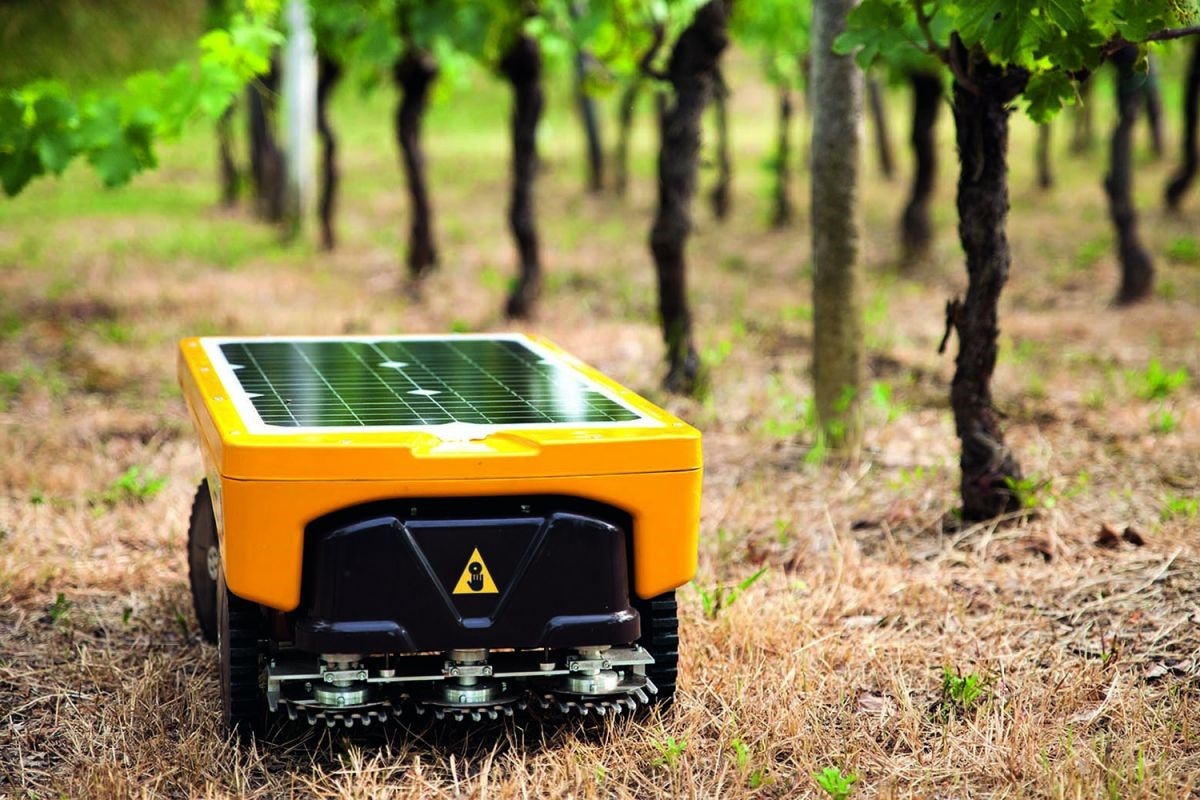 Versatile and Expandable Functionality
Mowing and Monitoring Capabilities
Vitirover is designed to handle vine stocks up to 2 centimeters tall and can operate autonomously for weeks. With the potential to add sensors and other functionalities, the robot could also monitor the health of the vines and even perform preventative treatments.
Adaptable to Various Industries
While specifically designed for vineyards, Vitirover has applications in other industries, including parks, gardens, solar power plants, orchards, and large cemeteries. Its ability to handle numerous obstacles per acre makes it highly versatile and adaptable.
Specifications and Features
Dimensions: 30 cm height
Weight: 10 kg
Speed: Up to 500 meters per hour
Motor system: Four DCX 22 L drives and GP 32 C gearhead
Housing: Aluminum bell housing for motor protection
Navigation: GPS-based navigation system
Control: Smartphone Programming
Power source: Solar panels
Mowing capability: Vine stocks up to 2 cm tall
About Vitirover
Vitirover SAS is a pioneer in designing innovative robotic solutions for vineyards. The company has developed the Vitirover robot, an eco-friendly, solar-powered all-terrain mower that effectively manages grass height while replacing traditional weed-killing practices. In addition to its mowing capabilities, the Vitirover robot serves as a vigilant ecological guardian of vineyards, consistently monitoring the health of the ecosystem and detecting potential risks such as diseases, insect invasions, or meteorological stress.
Equipped with state-of-the-art onboard measurement instruments, the Vitirover robot can collect relevant data 24/7, allowing daily and yearly statistical comparisons. This invaluable information enables winegrowers to identify risks or problems early on and take targeted, natural actions at the vine stock level, reducing the need for widespread pesticide-based treatments.
Operating from its headquarters in Saint Emilion, Aquitaine, Vitirover was founded in 2010 and has since been dedicated to robotics, sustainable development, and wine. With a team of 2-10 employees, including part-time roles, the company has established itself as a leader in environmental services within the industry. To learn more about Vitirover and its cutting-edge solutions, visit its website at http://www.vitirover.com.
In Conclusion
In addition to its innovative features, Vitirover offers a Robot-as-a-Service plan, allowing customers to lease the robotic mower for their agricultural needs. The plan is priced at 2100€ per year per robot without assistance or 3100€ per year per robot with full assistance. This service allows customers to access the benefits of Vitirover's technology without the need for large upfront costs, making it a more affordable option for those looking to incorporate sustainable and efficient practices into their agricultural operations. With the Robot-as-a-Service plan, customers can enjoy the convenience and reliability of Vitirover's solar-powered robotic mower while focusing on the growth and health of their crops.